Help sustain the vibrancy, quality, and diversity of our organization.
We are committed to keeping our community connected and making sure that the arts are accessible to ALL residents of the
Wichita Falls
area and beyond.
100% of our arts programming is supported through contribution: Membership, Volunteerism, Donation and Venue Rental. In addition to supporting our programming, your membership receives the benefits listed below!
For information on Membership, please contact Charlene Carey at The Kemp (940-767-2787 or community@artscouncilwf.org)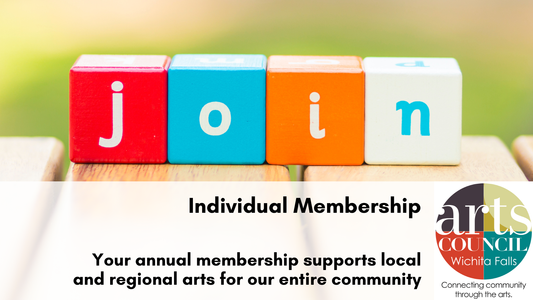 Membership
$50.00 - $5,000.00
Membership
$60.00 - $75.00
---
Benefits of Individual Membership
Friend - $50/year
Digital and snail mail newsletters and announcements




Invitation to all special events and gallery receptions

1 complimentary ticket to H&G

Access to Arts Council lending library @ The Kemp
Supporter - $100/year
Advocate - $250/year
Supporter benefits, plus:
Champion - $500/year
Advocate benefits, plus:
4

complimentary tickets to H&G

15

% off room rental rates at

The Kemp and The Forum
Benefactor - $1,000/year
Champion benefits, plus:
6

complimentary tickets to H&G

2

0

% off room rental rates at either venue
Pillar - $5,000/year
Benefactor benefits, plus:
10

complimentary tickets to H&G

30% off room rental rates at either venue
---
Benefits of Organization Membership
Arts & Cutlure NonProfits: $60 / year
Other NonProfits: $75 / year
Meeting room use 2 hours / month
Great Hall Annual Meeting use 2 hours (once per year)
Mailbox at The Kemp
Home & Garden ticket fundraising opportunity
... and more!
You can also download a .PDF ORGANIZATION MEMBERSHIP FORM here: Member Organization Registration Packet
2023 Member Organizations
Base Camp Lindsey
Beacon Lighthouse, Inc.
Camp Fire North Texas
Catholic Charities Fort Worth - Northwest Campus
Child Advocates (CASA)
Child Care Partners
Chisholm Trail Art Assoc.
Christ Counseling Ministry
Christmas in Action
Encore! Bravo! Community Choir
First African Violet Society of Wichita
Hands to Hands Community Fund
Junior League Wichita Falls, Inc.
Kids Go Pro
Leadership Wichita Falls, Inc.
Museum of North Texas History
North Texas Home Builders Assoc.
Northwest Texas Council Boy Scouts of America
Onelife Community Church
Patsy's House Children's Advocacy Center
PEO
Red River Lyric Opera
Red River Orchid Society
Red River Photography Club
Red River Quilter's Guild
Rolling Plains Chp.TX Master Naturalists
Sids and Kids of Texoma
Society of Creative Anachronism: Shire Brad Leah
Sr. Jr. Forum
Texoma Water Garden Society, Inc.
Texoma Womens Business Council
Volunteer Services Council for North Texas State Hospital
Wichita Adult Literacy Council, Inc.
Wichita County 4-H Youth Development
Wichita County Heritage Society
Wichita County Master Gardners
Wichita Falls Alliance for Arts & Culture
Wichita Falls Area Cattlewomen
Wichita Falls Area Community Foundation
Wichita Falls Art Association
Wichita Falls Association of Realtors
Wichita Falls Ballet Theatre, Inc.
Wichita Falls Chamber of Commerce
Wichita Falls Convention & Vistors Bureau
Wichita Falls Crime Stoppers, Inc
Wichita Falls Farmers Market Association
Wichita Falls Founder Lions Club
Wichita Falls Music Teachers Assoc.
Wichita Falls Poetry Society
Wichita Falls Rotary
Wichita Falls Solo Square Dance Club
Wichita Falls Symphony League
Wichita Falls Symphony Orchestra
Wichita Falls Woman's Forum
Wichita Falls Youth Symphony Orchestra
Wild Bird Rescue, Inc.