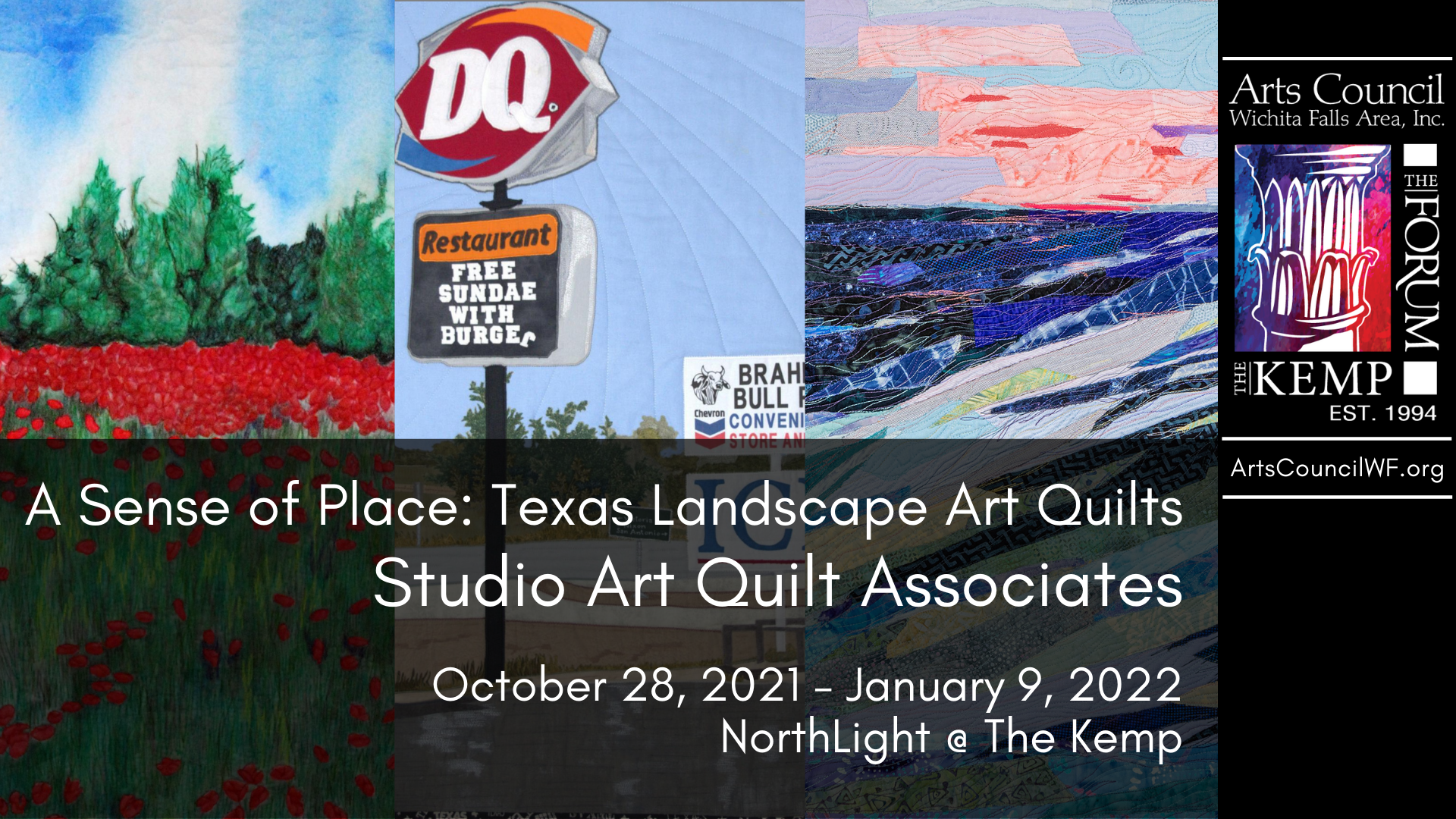 SAQA Texas Quilters: October 28, 2021 – January 9, 2022
"A Sense Of Place: Texas Landscape Art Quilts"
From above or below, from far or near, abstracted or hyper-photographic, Texas geography, geology and landforms inspire artists with the diversity, grandeur, mystery and complexity that unrolls from the Gulf to the Staked Plains to the Borderlands and the Hill Country. Artists were invited to explore their emotional connections with landscape themes, and to push the boundaries of what constitutes landscape art.
Special Gallery Event: January 3 from 3:00 - 4:00 PM
Sue Benner
Deborah Boschert
Stephanie Dahl
Mel Dugosh
Nancy Fisher
Muff Fregia
Natalie Friedman
Debra Goley
Jean Grimes
Paula Gron
Barbara Oliver Hartman
Elaine Hengen
Valerie Hill
Ivy Jensen
Linda Kim
Ellie Kreneck
Sherri Lipman McCauley
Susie Monday
Jeannie Moore
Mary Ann Nailos
Amy Nelson
Bobbe Nolan
Elizabeth Pekins
Marika Pineda
Carolyn Skei
Wendy Starn
Marinda Stewart
Mary Ann Vaca-Lambert
Joshua Willis
Nancy Woods
Gay Young
Studio Art Quilt Associates, Inc. (SAQA) is a nonprofit organization whose mission is to promote the art quilt: "a creative visual work that is layered and stitched or that references this form of stitched layered structure."
Over the past 30 years, SAQA has grown into a dynamic and active community of nearly 4,000 artists, curators, collectors, and art professionals located around the world. Their vision is that the art quilt is universally respected as a fine art medium.
With their exhibitions, resources, publications, and membership opportunities, SAQA seeks to increase the public's appreciation for the art quilt and to support their members in their artistic and professional growth.
---
The NorthLight is on the first floor of The Kemp Center building located at 1300 Lamar, Wichita Falls, TX 76301. Call for further information: 940-767-2787 or email galleries@artscouncilwf.org.
---